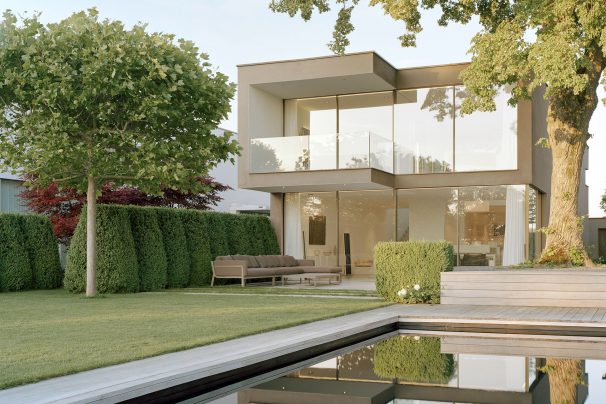 Architecture Icon – Bauhaus Villa with stunning Lake View
Inning on Lake Ammersee
Architecture Icon – Bauhaus Villa with stunning Lake View.
▪ Country: Germany
▪ Location: Inning on Lake Ammersee, near Munich, Bavaria
▪ Type: Villa
▪ Property area: approx. 1.000,00 m²
▪ Living space: approx. 310,00 m²
▪ Useable area: approx. 240,00 m²
▪ Number of floors: 3
▪ Rooms: 6
▪ Bedrooms: 3
▪ Bathrooms: 3
▪ Condition: almost new
▪ Year of construction: 2009
▪ Quality of equipment: Luxury
▪ Heating type: Heat pump
▪ Main energy source: Geothermal
▪ Available from: by arrangement
▪ Garage/parking space: Garage
▪ Number of garage/parking space: 2
▪ Object no.: 6900
Description:
Luxury has a tradition around the unspoiled shore zones of the Lake Ammersee. Here, villas and single-family homes with spacious green areas are lined up next to each other. And it is precisely on one of these wonderful green areas – on a hill with a wonderful view of the lake – that this unique Bauhaus villa is located. With its outstanding architecture by Marc Mark, Mark Studios, the garden design by Enzo Enea and the light-loving sky-frame facades, it leaves nothing to be desired. The reduced architecture with its clear lines and puristic shapes perfectly matches the beauty of the Lake Ammersee – the central element of the luxury domicile. Almost every place, whether living room, luxury kitchen, bedroom, master bathroom or sauna offers an unobstructed view of the lake and the surrounding nature. I am really not over the top when I say that such a perfectly planned and with all love for design implemented jewel in absolute prime location only extremely rarely finds its way onto the open market.
Location:
Since long time, the Lake Ammersee has fascinated celebrities, artists, authors and connoisseurs. Personalities such as Bertholt Brecht or Carl Orff already appreciated the splendor of this unique landscape. No wonder: The idyllic »Fünfseenland« is one of the most beautiful recreational areas in Germany. The proximity to Munich should not be underestimated either. The Bavarian capital with its trendy cafés and exclusive shopping opportunities is only half an hour away.
Miscellaneous:
All images, texts and graphics in this exposé may not be passed on to third parties or used by third parties.
For discretionary reasons, you can obtain further information in a personal meeting and with your full contact details, including telephone number.